Get that Clean Modern Look and Save space with our SlideStick 
Suitable for repairing a variety of items such as power boards, remote controls, tissue boxes, routers, and adapters. Can be used in various settings including the kitchen, bathroom, office, and bedroom, on walls, glass, and tile.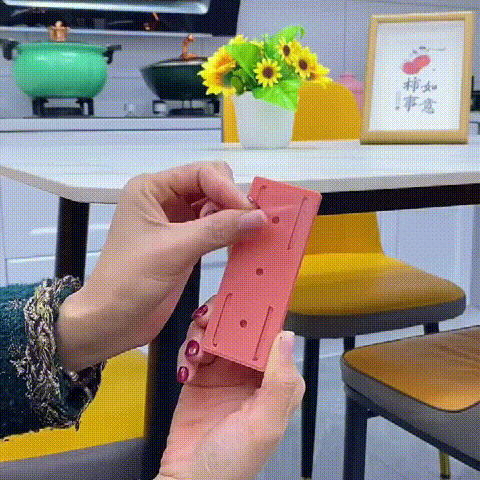 Apply easily on any hard surface such as Wood or Tiles
FEATURES
Organization- Specifically created to organize power strips, wireless routers, tissue boxes, adapters, and remote controls, it allows you to install your power strip and eliminate messy cords
Versatility - This power strip holder is compatible with many brands including Belkin, GE Power Strip, TESSAN, Bototek, Prime Wire & Cable, and many other brands that have mounting options.
Convenient and Reusable - The slide design allows for easy attachment and detachment. The acrylic gel material used is reusable and can be cleaned multiple times without losing its adhesive properties.
Effortless and Quick Set-Up - Can be mounted without drilling, utilizing self-adhesive transparent acrylic adhesive. Leaves no residue and has strong holding power. The longer the adhesive is left on, the stronger the bond becomes. It can hold up to 5kg. The product measures 3.93 inches in length and 1.57 inches in width.
Sizing
*Perfect for flat surfaces such as tiles, wood, plastic, ceramic, and glass, but is not recommended for painted walls as this may tear the paint off when removing
SELLING OUT FAST
Click on "ADD TO CART" to SAVE 50% OFF TODAY - Get yours now! 
Details: 2023 Release

Create a clean look to any space with messy outlets 
Use as a simple storage solution for losable items such as remotes
Easily install and save space
Materials and Care:
Content:
Care:

Use on flat hard surfaces such as tiles or wood
Do not use if you care about the paint on walls as this may tear the paint off during removal
PACKAGE INCLUDES:

x1 Hera's SlideStick™ Super Adhesive Slide Holder (No screws)
🔒 100% Risk-Free with a 30-Day Money-Back Guarantee 
At HeraVogue we create and source our products with the full belief that they will create a happier lifestyle and have 100% confidence in our innovations. 
If you bought any items from us and felt they did not match your expectations, don't worry just send us a message and we will make sure you are satisfied with a replacement or refund. 

Click on "ADD TO CART" to get yours now